YOUR

design carved into

YOUR

titanium ring

One of the more satisfying kinds of jobs we do is custom work that requires us to take a customer-supplied image and turn it into a ring. Most images will convert nicely to a titanium wedding band or promise ring and we can say quickly whether something is possible or not. We can usually color the image however the customer wants, with a few exceptions.

Below are several titanium wedding ring projects we've done over the years for men's and women's titanium bands, each with the original image we used to turn the customer's idea into their hand-crafted titanium ring.

Email us with your own ideas for a custom titanium ring or call us today! (800) 297-6707
Titanium band with tractor
We loved this one—a farmer couple who wanted the image of a favorite piece of farm equipment on their titanium wedding rings submitted this drawing: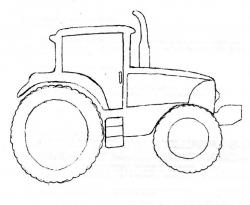 and we put it on their wedding bands!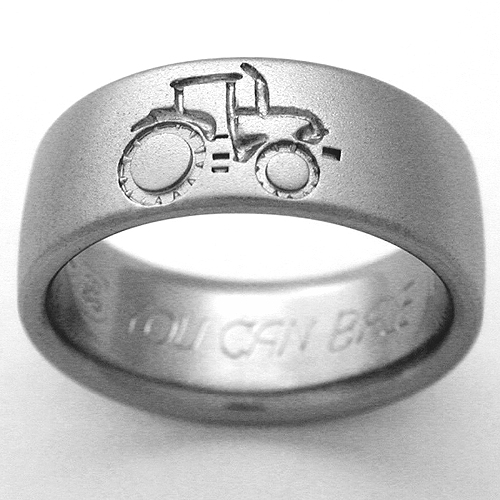 The finished ring: Emporia
We have made many nature-inspired titanium rings over the years; three such projects are below.
Titanium ring with feathers and diamonds
A bird-keeper at the San Diego zoo wanted a titanium band representing her work but that would also hold up to the demanding physical tasks of her job. Here is a drawing a friend of hers did of bird feathers and another drawing showing the way she wanted the feathers combined with diamonds: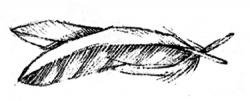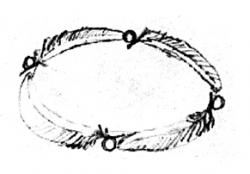 And here is the finished titanium ring, anodized a rich gold: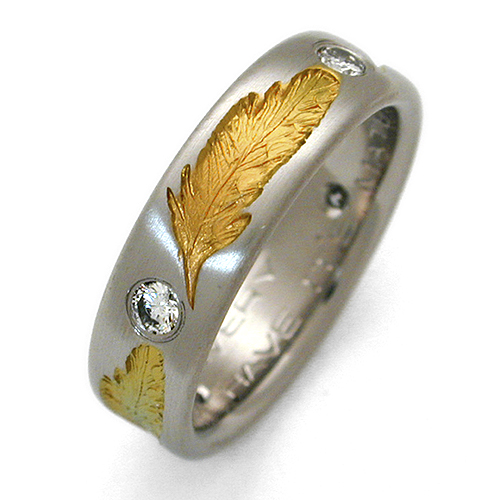 The finished ring: Eugene
In the end, she decided to have us remove the color, but we like that gold look!
Titanium band with raccoon tracks and silver inlays
A couple was inspired by this titanium ring we made, with a kite and silver inlays: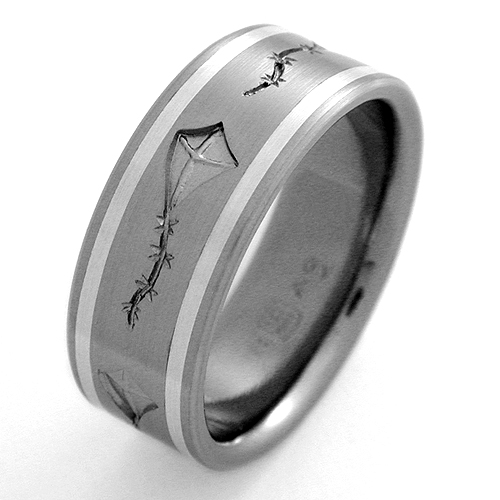 The existing ring: Silverado
but the couple wanted raccoon tracks instead.
They sent us their mock-up: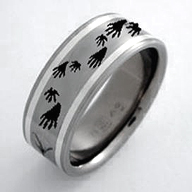 and we made the ring: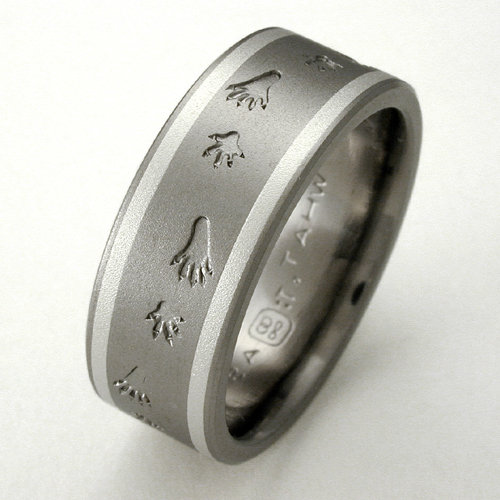 The finished ring: Silvis
Titanium ring with waves and whale tail
A customer liked the wave-themed titanium band we had already made but wanted us to add a whale tail so we did!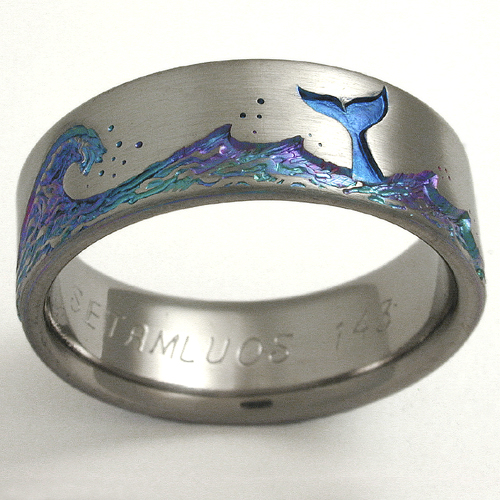 The finished ring: Echo
Men's titanium band with motorcycle
Here's a fun one. The bride wanted to surprise her ninja motorcycle-loving fiancé and sent us a photo that wasn't that great, but good enough for us to get the drawing we needed from it.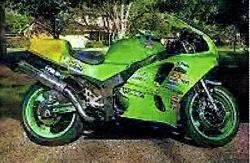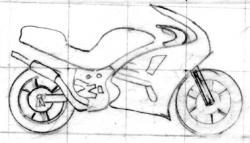 With her approval we added a wrench and some lug nuts, a little color, and voilà!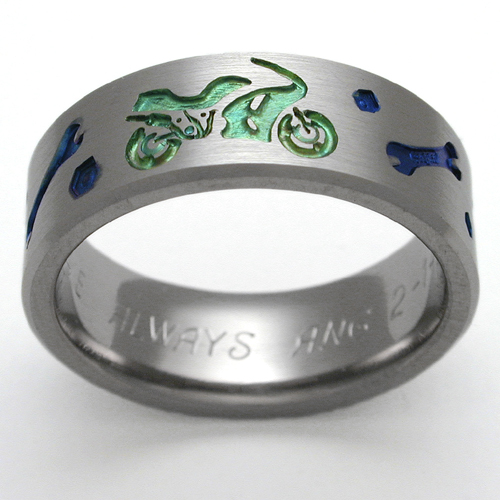 The finished ring: Excelsior
Medieval-style titanium bands with gaelic phrase
We get requests fairly often for special characters to be engraved inside rings. Sometimes customers want them on the outside, which we can do also. These titanium wedding rings were to have an inscription in Gaelic in a specific font style but also needed to look Medieval/rustic or at least antique.
Here is the profile (shape) requested for one of the two rings: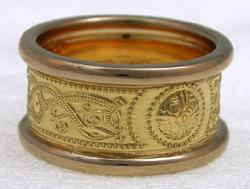 Here is the font requested: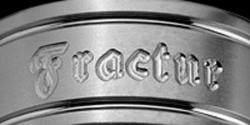 And here are the finished titanium rings—antiqued in green!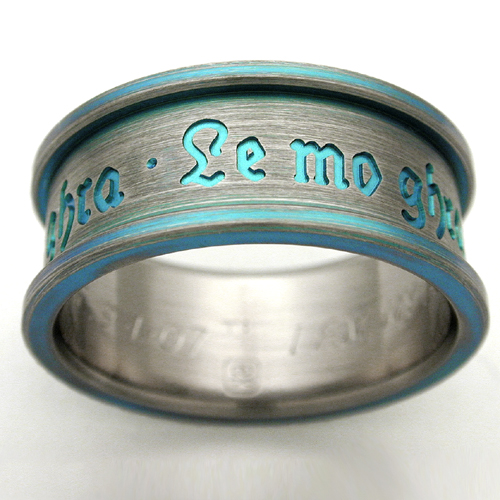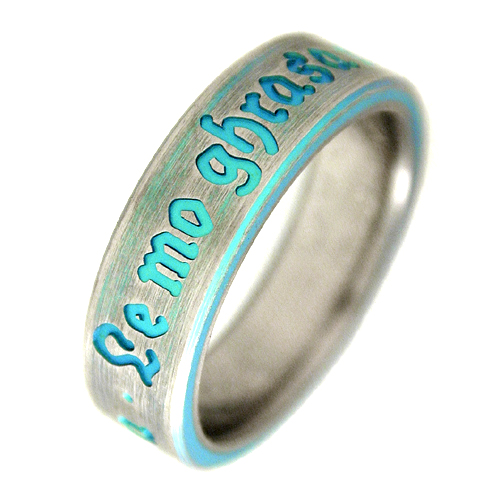 The finished rings: Centuria and Centuria 2
These are just some of the special projects we've completed over the years. We're always looking for the next challenge so send us your ideas and watch how we turn them into your hand-crafted titanium dream rings!
See examples of more custom titanium rings in part two.